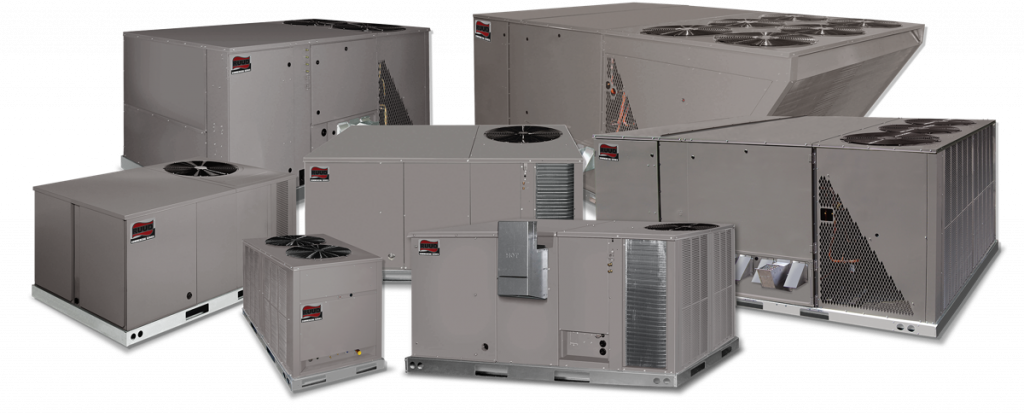 Efficiency at work: Cool Breeze Services + Ruud Renaissance™
In every industry, reliable, cost-efficient heating and cooling is not an option—it is an absolute necessity. Whether you're looking to keep a workplace cool and productive, students attentive, customers comfortable or even need to ensure optimal conditions for climate-sensitive materials, Cool Breeze Services installs and services Ruud Commercial Series equipment that can get the job done. The American-made (designed and produced in Ft. Smith, Arkansas) Ruud Commercial line includes industry standard R-410A commercial split systems and packaged/rooftop units up to 25 tons. 
Renaissance™ Packaged/Rooftop Units and Split Systems
Redesigned for today's demanding commercial applications, the Renaissance™ Line is packed with smart thinking—like high-quality critical components, lean manufacturing processes and robust design features—including the strengthened, solid, single-piece top, durable panels, plus Scroll™ compressor technology. Ruud's innovative engineering delivers easy installability, smart serviceability and industry-leading efficiencies for uptime reliability in a wide range of rooftop environments. Even better, Renaissance packaged units feature an industry standard footprint that allows for fast, economical changeouts without the need for or expense of curb adapters.
Built to order, these systems allow us to accommodate application and regulatory requirements with both factory and field installed options that include:
Variable Frequency Drives
Dehumidification/Reheat
Economizers
Integration with Building Automation Systems
We can also work with commercial customers to install or replace Commercial Split Systems from 6.5 to 20 tons. 
Commercial Preventative Maintenance
Regularly scheduled HVAC maintenance on your commercial system is imperative to keep your system running smoothly and efficiently. Consistent inspection and cleaning can also extend the life of your system, while keeping your energy costs lower because the system is operating at optimum efficiency.
Since every business or building is different, we believe its HVAC maintenance plan should be as well. Whatever your needs are, Cool Breeze Services can customize a plan specifically for you.